Product
请在后台添加自定义HTML标签:ft_contact
CryoMatrix-Carbon Film
Location: Home / Product / CryoMatrix-Carbon Film
Product Details
CryoMatrix® holey grid is a supporting film with regularly arranged micro holes, which is common used for electron microscopy imaging. It has a wide application in cryo-electron microscopy study, especially for the high-throughput automated data collection. CryoMatrix® support film is divided into two series, carbon film series and amorphous alloy film series. It is flat with smooth edges of holes, unfragile and well conductive without organic contamination. CryoMatrix® is suitable for cryo-electron microscopy high-resolution imaging. CryoMatrix® keeps the good performance in a long life with vacuum package.
Instructions for use
Firstly, place the CryoMatrix® support film in a glow discharge instrument, such as Gatan Solarus or plasma cleaner to make it hydrophilic. The hydrophilic processing parameters are exampled as H2/O2 or O2/Ar, 30 s. Secondly, drop 3.0ul sample solution onto the CryoMatrix® support film, blot 3~4 s with filter paper Whatman (597), and then quickly throw into the liquid ethane cooled by liquid nitrogen. Finally, transfer the freezed grid into TEM or sample container.
Product specification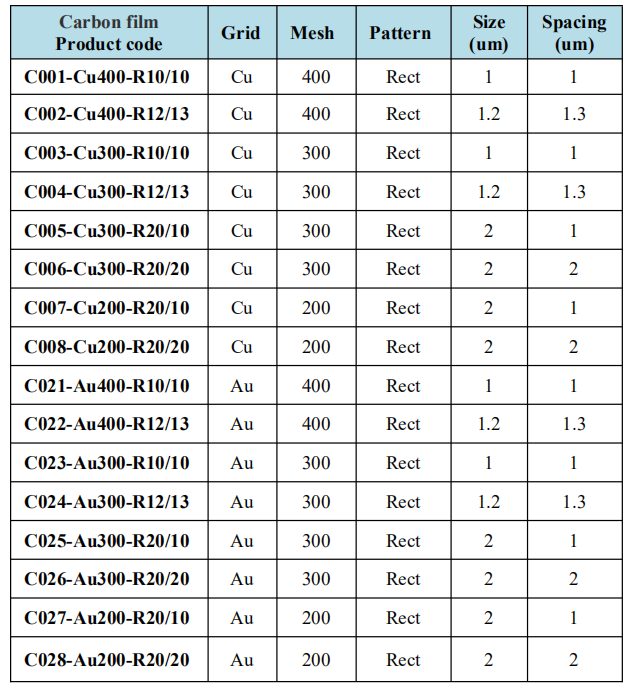 Application example


Apoferritin frozen on CryoMatrix® supporting film: a) LM imaging on C film; b) HM on C film; c) 3D reconstruction frozen on C film; d) LM imaging on on NiTi film; e) HM on NiTi film; f) 3D reconstruction frozen on NiTi film;